Gardens are not made by singing 'Oh, how beautiful,' and sitting in the shade.
Nestled in the fertile Okiwi basin is a plot of land with some of the richest soil on Great Barrier Island – black, friable, deep, soil that is every gardener's dream. Land that called to be husbanded. Twelve years ago Gerald and Caity Endt responded to that call, and so Okiwi Passion was born. Over the years, many gracious hands have worked the soil, made the compost, planted the seedlings and harvested the vibrant produce to fulfil the vision of feeding the Island community.
Caity and Gerald
The Endterprising Gardeners
Gerald Endt
Gerald has lived horticulture all his life, particularly working with tree crops growing up at Landsendt in Oratia. Through his family, he's had a life-long association with Great Barrier Island. He came here as a boy to spend summers fishing and hunting with his cousins, the Mabeys, on their farm at Whanagapoua. 
Then his parents, Dick and Annemarie Endt, established The Okiwi Babaco Company with Helen and Murray Mabey, purchasing a large piece of farmland in Okiwi, later split after the partnership dissolved. Gerald, who had by then studied horticulture at Lincoln and overseas, including internships at Longwood Gardens and Lotus Land, then managed the Endt operation on the Barrier, growing tamarillos and cherimoya for 5 years. Here he grew to value food autonomy – the ability to forage and hunt for one's own food, prepare it and eat it. After returning to Oratia at the age of 30 to manage Landsendt where he had grown up, he missed the freedom and beauty of the island, and was determined to eventually return to live. Two years later he met Caity, who had a dream to grow organic vegetables…
Caity Endt
Caity has always been a keen gardener and nature lover, spending endless hours in the garden with her father as a child, and eventually studying botany and ecology. She was especially inspired later in life working at the medicinal herb gardens of Weleda in Hawkes Bay, and at Daniel Bridler's market garden Parau Gardens. Here the seeds were sown for her vision of growing organic produce on an ecologically diverse farm – preferably a long way from the madding crowd!
After marrying Gerald, the seeds fell on the fertile soil of Great Barrier Island, and Okiwi Passion was born.
She is looking forward to offering more gardening workshops on the island now that our wonderful assistant manager Bree has joined the team and eased the load!
Our team is growing strong for the 2019 season!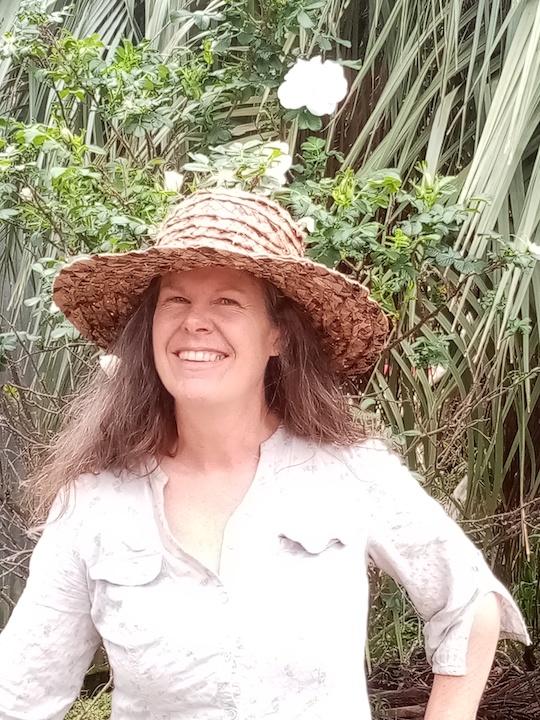 Caity Endt
Director & Operator

Grower of plants and ideas, teacher, compost enthusiast, incredible baker, our Leading Lady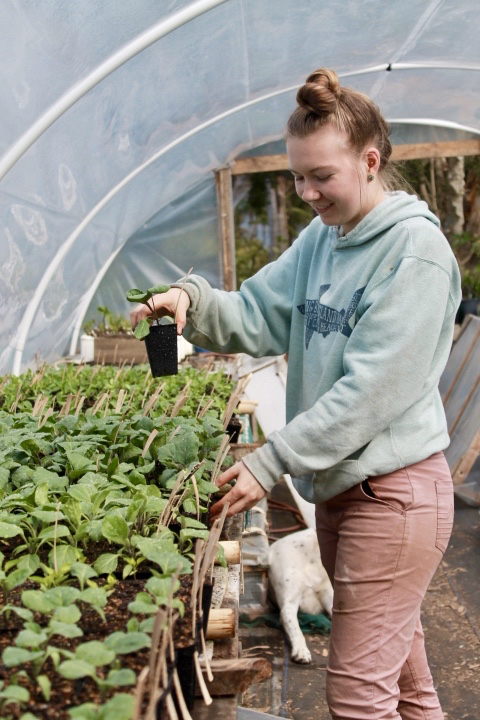 Maggi Currier
Intern

Full season intern, chicken tender, seedling whiz, lover of music, speaker of German, player of Magic the Gathering
Gerald Endt
Director & Operator

Grower and tree man, fixer of all things, fruit lover, expert harvester, happiest on a tractor or boat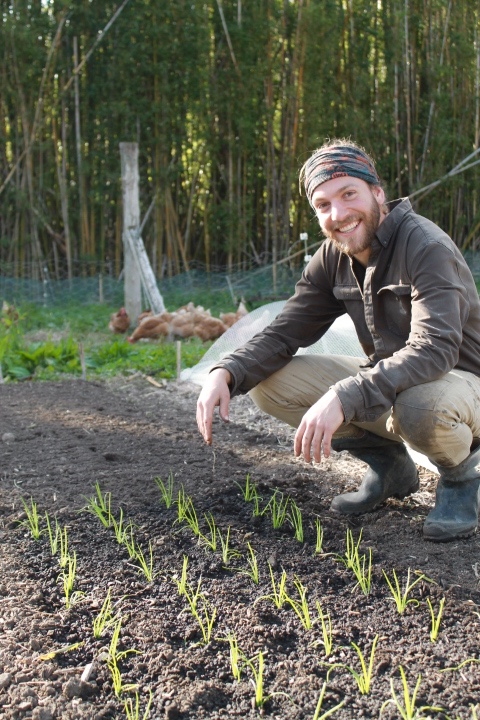 Alex Carpenter
Intern

Full season intern, baker of awesome bread, ambitious tramper, mandolin jammer, double-digging machine
Speckles
'Baby' Boy

Eater of broken eggs, fish lover, herder of chooks, pest control in training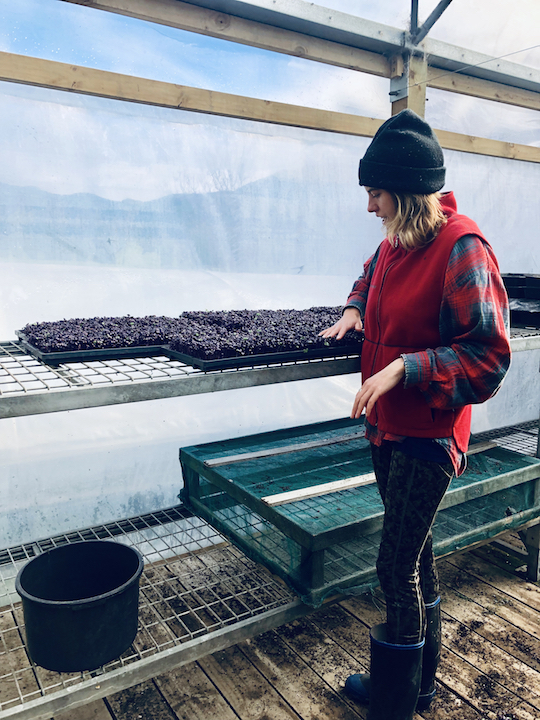 Bree Biederman
Assistant Manager

Assistant nursery manager extraordinaire, website creator, lover of food, homesteading novice
Pip
Mama Pup

Wagger of tail, chaser of rabbits, pest control lead, keeper of calm, napping expert
Our Farm and Our Practices
Okiwi Passion operates on an amazing eight or so acres in the small northern settlement of Okiwi on the east coast of Great Barrier Island. We are very fortunate to have incredibly fertile alluvial soil with excellent structure, created by millennia of soil building in the Okiwi basin, and a very warm microclimate assisted by 30 year old bamboo shelterbelts (essential for the extraordinary winds we can get).
We started growing here in 2007. Over the years we have developed extensive gardens and have planted around 80 fruit trees (pip, citrus and stonefruit) which are now bearing. There are also  established plantations of bananas, feijoa and cherimoya. We keep a crew of around 65 free range hens helping us out scratching out weeds, gobbling bugs, depositing their lovely rich droppings, and laying golden yolked eggs.
Being able to grow high-quality, nutritious food in a mindful way that respects nature and feeds and protects the soil upon which we all depend, is a vital service in today's world where "agri-business" is becoming more and more mindless. We see the soil as a treasure to be guarded. We minimise cultivation, using human scale tools: broadforks, rakes, and Eliott Coleman's tilther for soil prep; tarps and hoeing for weed control; feeding the soil with farm-made compost, green manures, droppings from the chickens and a lot of banna grass and bamboo mulch that we make on-site. The mulch keeps weeds down and moisture in, and feeds the soil over time. We are one of the few organic gardens not using plastic film to plant in to.  We also use certified organic mineral fertilisers, liquid foliar fertilisers and biological inoculants, and practice rotation of our crops. We promote biodiversity for its ecological value by having a widely diverse range of crops, fruit trees and wild flower strips to attract beneficial insects.
We grow all our own seedlings for planting out. Our plant nursery grew alongside the gardens, and it's now a thriving part of our business, growing high quality organically raised vegetable, herb and flower seedlings, and larger ornamentals, such as roses (for the soul!). We raise all our plants using certified organic potting mix enriched with extra organic fertilisers and beneficial microbial inoculants.
Aotea/Great Barrier Island is the fourth largest island of New Zealand, proudly defending the Hauraki Gulf against the powerful Pacific Ocean and the blasting salt-laden gales that roar over from the Pacific. It is wild and rugged, with steep bush-clad terrain of spectacular topography, mostly under DOC management. The beaches are stunning, with crystal clear water, and pristine estuaries. Numerous small islands make the coastline extremely beautiful.
We are part of a small community of self-reliant individuals, who pull together in moments of need but also value their independence and isolation. The population swells over the summer to several thousand – camping, boating, baching, renting, – all sharing a slice of paradise and bringing much-needed revenue to the island.
The entire island is off the grid – we all make our electricity from solar power with backup generators. There are no traffic lights! And no nighttime light pollution.
Our extraordinary night skies are brilliant with stars and have earned our island International  Dark Sky Sanctuary status. We are the third such sanctuary in the world.
If ever you come to Great Barrier Island, do contact us, take a walk around the gardens, and order a produce box before coming over!